A continuation of
yesterday's
post
What follows next in the Two Minds post is a series of graphs that seem not to show what Two Minds wants us to see in them. I will not show most of these.
TwoMinds shows a graph of declining employee compensation, and points out that the graph does not show a failure to cut taxes and does not show "A failure to print enough money or extend enough credit". These criticisms are irrelevant.
Apart from that, I want to point out that TwoMinds, like everyone else, refers to money and credit as a single thought.
That
is the problem.
That
is
the problem. That is how finance got so big. We equate money and credit. We think of them as interchangeable. We think of them as two words for one concept. They are not the same. Money is money. Credit is money that costs money to use. This is not a difficult concept to grasp.
But no one wants to look at it
.
TwoMinds' second graph shows a long-term increase in the "civilian employment-population ratio" ending with the recession of 2009. And his comment is that "employment is declining."
Assuming the employment-population ratio is a good measure of employment, TwoMinds' great insight here is that employment fell during the recession. What I see on that graph is that an
increasing
portion of the population had to work (or anyway, was working) and then we had this depression...
His third graph I'll show ya:
Meanwhile, after-tax corporate profits have steadily climbed to nearly 10% of the entire national income: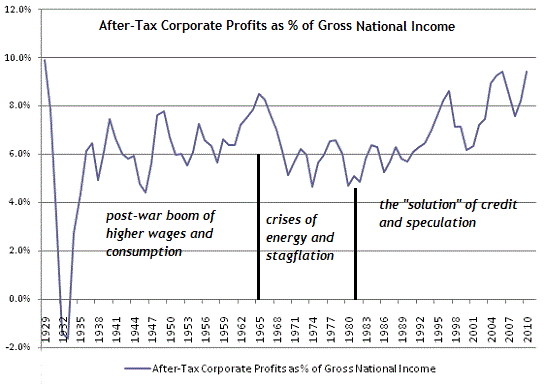 Climbed to nearly ten percent.
I think it is more reasonably called nine percent, at least if you imagine a trend-line through profits since 1980.
Meanwhile, a trend-line through the 1938-1965 years would range between 6 and 7 percent. Since 1980, profit was in that same range until some time after 2000. And only in the most recent years do we see profits actually climb to two or maybe three percentage points above that early-years level. I don't like the way TwoMinds looks at graphs.
I also don't like the way he breaks up the post-WWII period into three stages like it was a Saturn V rocket. There was no sudden stage-three
solution of credit and speculation
. Credit use was growing consistently for the full post-war period. Credit started causing problems, or they became obvious anyway, in what TwoMinds shows as stage two, the "crisis of energy and stagflation". But energy costs and stagflation were simply the first visible signs of the excessive reliance on credit.
TwoMinds' next graph shows trend-lines for financial and non-financial profits. The graph shows credit use growing consistently for the full post-war period:
Note the recent rise of finance-based profits: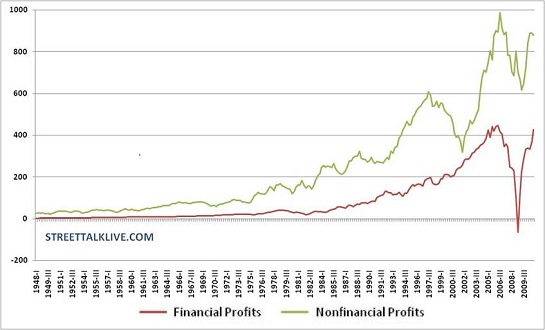 Things go up. Non-financial profits go up from the beginning of the chart. So do financial profits, but it is harder to see. TwoMinds seems to think financial profits only start to go up, starting in the middle of the chart. "The recent rise," he says.
He presents the increase in financial profits as a problem. He does not point out that the increase in financial profits was a
solution
encouraged by Reaganomics.
But I said financial profits were increasing for the whole post-WWII period. Yes. But Reaganomics encouraged it? Yes. It was thought that we needed more credit for growth. The early post-war years seemed to show this to be true.

By the 1970s, accumulated debt was causing problems. But nobody blamed credit-use for that. We blamed OPEC and their oil. We blamed baby-boomers and (presumably) their horny parents. We even blamed Japan. Remember?

By the 1970s, the costs of debt were hindering economic growth. But nobody looked at it from a cost standpoint. Policymakers knew we needed more growth and, to get it, we needed more access to credit. So, that was one of the biggest themes of Reaganomics: to make it easier to use more credit. And finance grew. It was the only way to stay on the exponential debt-growth curve.

Not that there's anything right with that.

TwoMinds' next graph is his funniest one. He shows TCMDO, total debt, with its relentless exponential increase. He puts some words on there that mean nothing to me, and in red he indicates that the top half of the exponential curve is a "speculative bubble".
This chart leaves no doubt that the engines of the past 30 years "growth" and "prosperity" have been credit and credit-fueled speculation: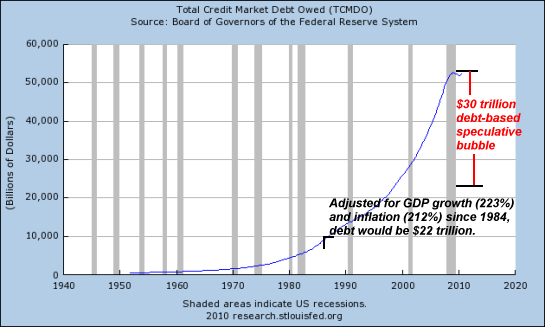 You don't break it up that way. The increase in debt shows one long, continuous trend. One trend. If you let debt increase exponentially, you're gonna get speculation. You're gonna get financial profits. You're gonna see financial costs in the non-financial sector. You're gonna see those costs hurting the non-financial sector. And you're gonna see people respond to that by moving
more
of their money into finance.
You don't draw a line through the middle of that, and say
This part is speculation
.
TwoMinds' conclusion:
Add all this up and you have to conclude the final crisis of finance-based advanced Capitalism is finally at hand. All the "fixes" that extended its run over the past 70 years have run their course. Life will go on, of course, after the Status Quo devolves, and in my view, ridding the globe of financial predation and parasitism will be a positive step forward.
The real solution is to understand advanced finance-based global Capitalism will unravel as a result of the internal dynamics described above, and be replaced with an economic and political Localism that I describe in my new book An Unconventional Guide to Investing in Troubled Times. I don't claim these ideas are unique to me; many others have described the same dynamics and historical trends.

TwoMinds does not show that all the fixes have run their course. He identifies things that went bad since the recent recession, and things that went bad after Reaganomics was put in place, and he asserts that now the end is near. This is not economic analysis.
This is sad:
The real solution is to understand advanced finance-based global Capitalism will unravel as a result of the internal dynamics described above, and be replaced with an economic and political Localism...
Economic and political localism. A new Dark Age.